First Hike to Ambler Rattlesnake Lodge at the Blueridge Mountains, North Carolina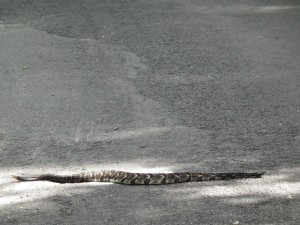 Our first hike started when my sister slamed on the brakes stuttering: "Oh my gosh, a big rattle snake!" And indeed it was. The timber rattlesnake is very common in North Carolina and this example laying on the street was fantastic! Slowly, Nele drove around it and luckily the car after us was driven by nice people aswell and the snake didn't get killed.
After finding a parking-spot, dog safely on the leash we started walking. Nele chosed a "not so steep" way for the beginning which for me was absolutely steep enough 🙂 Oskar, Neles dog was running up and down to check on us, alwas trying to find some birds or squirrels to chase after. Though he found some, he never got one and luckily didn't get lost.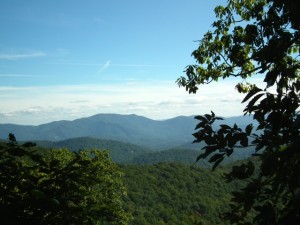 The view through the trees was amaizing! The colour of the mountains changed from dark-green to every variaty of blue. Since autum is just starting, we could only guess how wonderful the view must be when the change of colours comes to its full blossom. The Ambler Rattlesnake Lodge is on top of the mountain and is named aft the rattlesnakes inhabiting that area (luckily we didn't have another encounter with one of those specimen, but then again it was fascinating) and the family owning it once. The Lodge is only to find in remains, since it was given up during the Great Depression in 1930. It was  the residence of the family Ambler and hosted many guests until 1920.
We had a good time and the exausting walk  was realy worth it.